Expert Restorative Dentistry for You and Your Family
Crowns are a cap for your tooth designed to protect, preserve and restore a damaged or worn tooth. We offer e.max, zirconia, and porcelain crowns. These are all great options, and each has its own set of advantages. All of our crowns at Oxley Comprehensive Dentistry are custom-made for each patient. This ensures each crown is perfect for you in terms of aesthetics, comfort, and function.
If you think you need a crown, Dr. Oxley will explain the choices available to you so you can make an informed decision. Crowns are typically a two-appointment procedure. At the first appointment, we shape the tooth and take a digital impression. At your second appointment, Dr. Oxley fits the crown and makes any necessary adjustments. Your bite and comfort is not affected, and your new crown will look just like a natural tooth.
Replace missing teeth and fill spaces.
Bridges are an effective treatment for missing teeth. After the teeth on either side of the space are prepared, a digital impression is taken. Your bridge is then custom-made and cemented permanently in place. We offer e.max, zirconia, or porcelain bridges. Keep in mind that for a bridge to work, the teeth on either side of the space must be healthy. If they aren't, an implant or partial denture may be a better option.
Your solution to tooth loss.
Whether you're missing a single tooth or several, the impact of that missing tooth on the overall function of your mouth is significant. The remaining teeth start to shift and move to fill the gap which can cause a variety of problems from a misaligned bite to a change in the shape of your face. The most severe issue with missing teeth is that the bone that used to anchor that tooth is no longer being stimulated. Just as weight-bearing exercise helps to treat and prevent osteoporosis, chewing helps to keep your jaw bones healthy and strong. Bone loss as a result of tooth loss can have long-term implications to your oral health and overall facial dimensions.
With dental implants, your smile will be restored and your jaw bone will be stimulated and preserved. Using CBCT technology, we can see what's happening deep below the surface to map out the best surgical plan for your dental implants. We also offer a variety of sedation options to keep you comfortable and relaxed.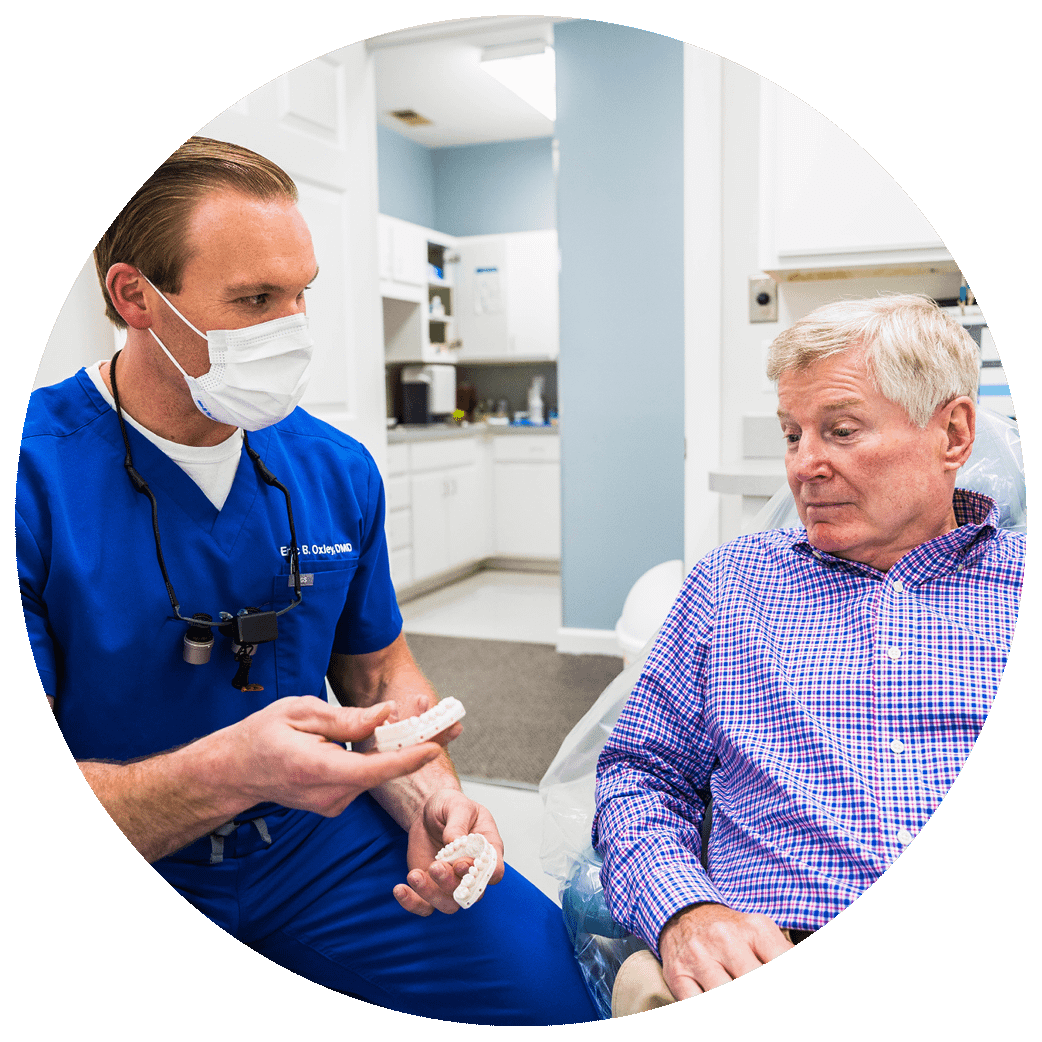 Flexible Payment Options and Insurance Know-How
Everyone deserves a beautiful, healthy smile. At Oxley Comprehensive Dentistry, we offer a range of services and treatments that can be tailored to suit your budget. For your convenience, we accept cash, check, and debit and credit cards (Visa and Mastercard).
Insurance Processing
Dental insurance covers many preventive treatments, such as routine evaluations and professional dental cleanings. Our team can help you maximize your yearly benefits. We are in network with Delta Dental and can verify and file and follow-up on insurance claims, EOBs, and more with most insurances as a courtesy to our patients.
Finance your dental care with CareCredit.
Oxley Comprehensive Dentistry offers financing through CareCredit for treatments and procedures that are typically not covered by insurance.
CareCredit has a variety of affordable financing options. Visit the CareCredit website or contact our team for assistance with your application.
Keen to restore your smile to its former glory?
Schedule an appointment online or contact the Oxley Comprehensive Dentistry team today.