Expert General Dentistry for You and Your Family
Healthy Teeth for You and Your Family
Expert preventive care using the latest technology.
Oxley Comprehensive Dentistry welcomes both adults and school-age children, so you can bring your whole family to the same dentist! We offer a range of preventive services as well as cosmetic and restorative dental treatments.
We use the latest innovations available so your family can access the best treatment possible. One of those innovations is the Airflow Prophylaxis Master, which takes teeth cleaning to the next level. This safe, gentle, and highly effective technology is perfect for both routine preventive cleanings and periodontal therapy. Additionally, we use the Trios Intraoral scanner to complete digital impressions for those who need crowns and other restorative work. No more goopy trays! We also have digital X-rays (radiographs) which provide faster, better quality X-rays with less radiation. To see what's happening deep below the surface, we use 3D digital X-ray with CBCT technology for diagnostic and surgical treatment planning. We are committed to providing you with the best experience with the latest technology.
Healthy gums are important, too.
If you have pain, prolonged temperature sensitivity, swelling, or bleeding gums, you may need periodontal therapy. This particular treatment fights and treats gum disease at its source by removing stubborn buildup from below the gumline and guiding your gum tissue back to a healthy state. Regular checkups with your dentist and a good at-home oral hygiene routine help maintain the healthy, stable gum tissue that teeth require.
Treat cavities and decay.
We offer composite fillings at Oxley Comprehensive Dentistry. They are a safe and natural-looking option to fix worn, damaged, or decayed teeth. We color-match the composite so your filling seamlessly blends in with the color of your teeth.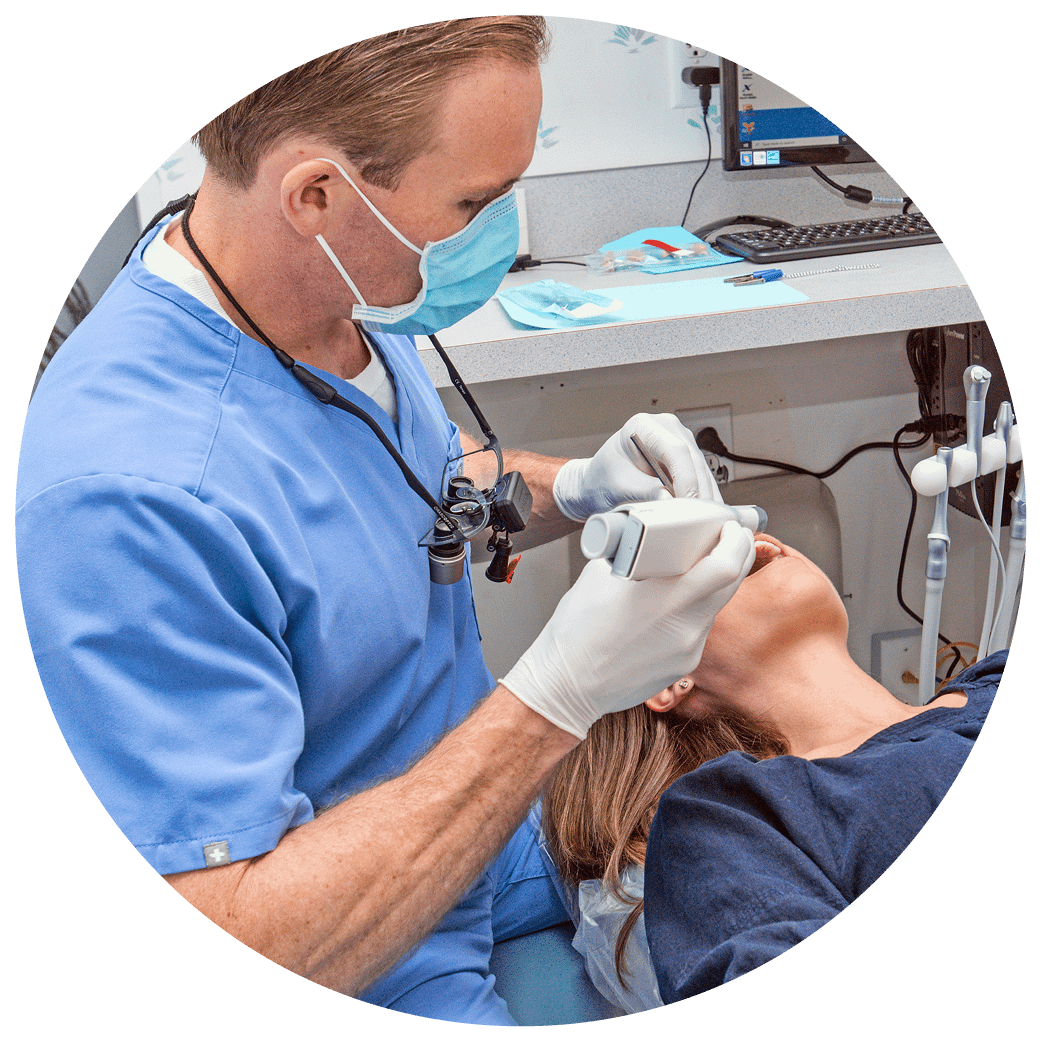 Crowns protect, preserve, and restore a damaged or worn tooth by covering it in its entirety. At Oxley Comprehensive Dentistry, we offer e.max, zirconia, and porcelain crown options. Dr. Oxley will explain the differences and benefits of each so that you can make an informed decision and choose the material that's right for you.
All our crowns are custom-made using digital impressions—no gooey impression material required! This ensures function, comfort, and aesthetics are optimized to your specific wants and needs.
Root Canal Therapy (Endodontics)
Gentle treatment fights infection.
Endodontics deals with the soft tissue, or pulp, inside of the tooth. Treatment is mostly required due to pulp damage, major decay, inflammation, or infection. Root canal therapy treats the condition by removing the pulp. Dr. Oxley then cleans the root and seals it to help prevent future infection.
Your comfort is our top priority.
We always restore teeth when possible, but sometimes a tooth cannot be saved. In this instance, your dentist will recommend an extraction. At Oxley Comprehensive Dentistry, we make the extraction process as comfortable as possible for our patients. We provide local anesthesia to numb the area, and our caring team works gently while keeping you informed of what's happening every step of the way. We also offer sedation options such as nitrous oxide, oral sedation, or a combination of both to help you relax through the procedure.
Checkups are important for long-term health.
Early detection is key to fighting oral cancer. But the earliest warning signs of oral cancer are not obvious to the untrained eye. That's why preventive dentistry is so important. Dr. Oxley performs an oral cancer screening at each of your regular dental checkups to make sure any irregularities are caught as soon as possible.
Flexible Payment Options and Insurance Know-How
Everyone deserves a beautiful, healthy smile. At Oxley Comprehensive Dentistry, we offer a range of services and treatments that can be tailored to suit your budget. For your convenience, we accept cash, check, and debit and credit cards (Visa and Mastercard).
Insurance Processing
Dental insurance covers many preventive treatments, such as routine evaluations and professional dental cleanings. Our team can help you maximize your yearly benefits. We are in network with Delta Dental and can verify and file and follow-up on insurance claims, EOBs, and more with most insurances as a courtesy to our patients.
Finance your dental care with CareCredit.
Oxley Comprehensive Dentistry offers financing through CareCredit for treatments and procedures that are typically not covered by insurance.
CareCredit has a variety of affordable financing options. Visit the CareCredit website or contact our team for assistance with your application.
Ready to book your dental checkup with Dr. Oxley?
Schedule an appointment online or contact the Oxley Comprehensive Dentistry team today.